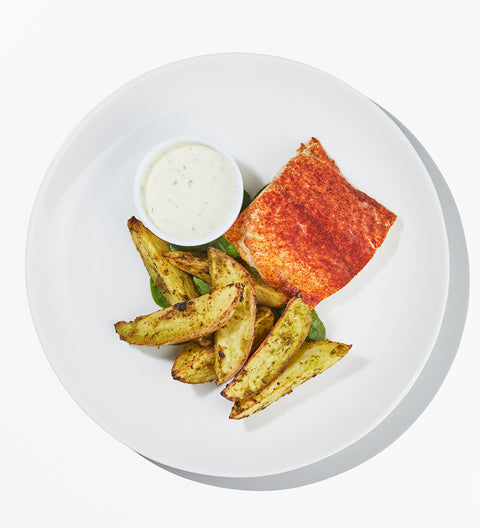 Activate Foods
Barramundi & Pesto Wedges
An oven baked fillet of barrumundi with potato wedges tossed in pesto, served with our house made jalepeno tartare.
Macros
Calories: 396 | Carbs: 27.8g | Protein: 33.4g | Fats: 15.2g | Approx Weight: 290g-310g
Ingredients & Allergens
Ingredients: Barramundi, potato, paprika, basil, olive oil, cashews, lemon, baby spinach, mayonaise (Olive oil, whole egg, vinegar, Dijion mustard [water,mustard seed 18%, salt, sugar, food acid (acetic acid), spice], Worcestershire sauce [water, vinegar, molasses, rehydrated vegetables, salt, spice, colour (150d), flavours, salt], capers, parsley, jalapeno, salt & pepper.

Allergens: Contains nuts, egg & seafood. May contain traces of seeds.
Heating & Storage Instructions
This is a fresh meal which should be stored in the fridge and eaten before the expiry.

Heating Instructions:
1. Remove dressing from container
2. Heat for 2-3 minutes or until heated through
3. Take care removing from microwave
4. Pour dressing over meal
5. Enjoy

Nutrition Panel