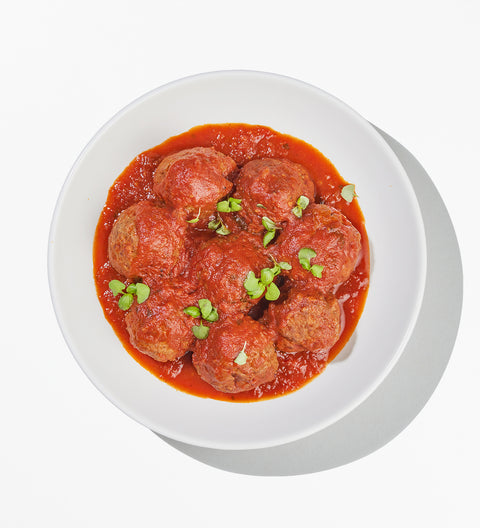 Activate Foods
Family - Bacon & Fennel Meatballs
There are 8 generous sized juicy meatballs cooked in a rich tomato sauce ready to be lapped up with your favourite side dish.
Serving Suggestions: You could accompany this with some steamed or mashed potatoes, pasta or vegetable noodles.
Minimum size of 1.1kg (serves 4). This product is cooked & frozen. Heating in oven is required.
Macros
Per serve: Calories: 335 | Protein:44.3g | Carbs: 6.7g | Fats: 12.9g
Ingredients & Allergens
Ingredients: Premium Beef Mince, bacon (220 Sulphite), fennel seeds, arrowroot, onion, garlic, tomato, tomato paste, parsley, basil, salt, pepper, olive oil.

Allergens: Contains sulphites. May contain traces of nuts & seeds
Heating & Storage Instructions
This is a frozen meal and should be stored in the freezer until you're ready to thaw.

Cooking Instructions:

1. Allow tray to defrost in fridge overnight
2. Heat oven to 180 degrees
3. Remove tray from plastic bag 
4. Cook for 40mins
5. Test using meat thermometer in centre of meatball (at least 80 degrees) or place butter knife in centre to test heat (use caution). Heat in 10 minute intervals if not ready.
6. Allow to rest for 5-10 mins prior to serving

Nutrition Panel