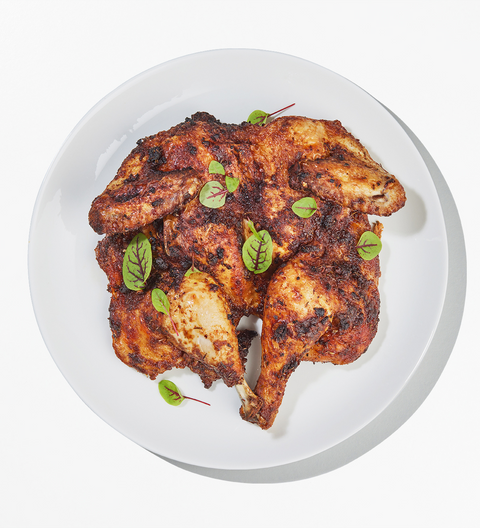 Activate Foods
Family - BBQ Spiced Roast Chicken (raw)
A family sized whole chicken butterflied & marinated ready for baking at home. This is one way to impress the family or friends with a flavour packed chicken that you can cook to perfection (no-one needs to know your little secret!) 
Your chicken comes butterflied with most bones removed to make cooking even and cutting to serve super easy.
Accompaniment suggestions: A tray of roasted carrots, sweet potato, pumpkin & zucchini or a fresh salad
Minimum size of 1.1kg (after bones removed). This product is frozen & raw. Cooking is required. Disclaimer: Weight variation will occur between chickens, however we provide the minimum weight above as your guide.
Macros
Macros: Calories: 325 | Protein:45.2g | Carbs: 0.7g | Fats: 15.5g
Ingredients & Allergens
Ingredients: Chicken, lemon, garlic, thyme, olive oil, salt & pepper
Allergens: May contain traces of nuts & seeds
Heating & Storage Instructions
This is a frozen meal and should be stored in the freezer until you're ready to thaw.

Cooking Instructions:

1. Allow chicken to defrost in fridge overnight
2. Heat oven to 180 degrees
3. Remove plastic bag and place in tray
4. Cook for 1 hour
5. Test using meat thermometer in thickest part of breast (at least 80 degrees) or pierce chicken to look for juices running clear. Heat in 10 minute intervals if not ready.
6. Rest of 10 mins covered in foil
Nutrition Panel