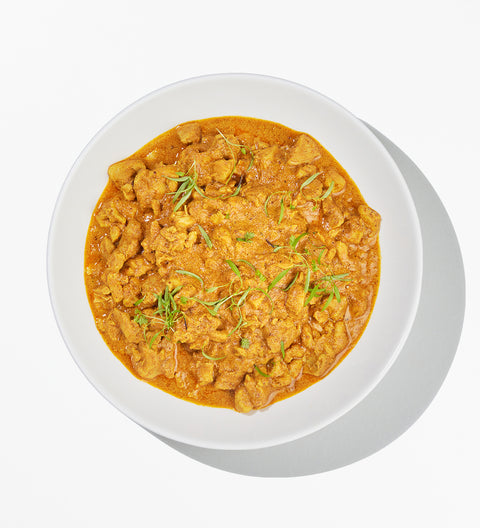 Activate Foods
Family - Butter Chicken
A mild & fragrant Indian curry that the whole family will love. This dish is very mild so there is no need to worry about it being too spicy for the kids or big kids!
Serving Suggestions: You could accompany this with brown or basmati rice, cauliflower rice or steamed vegetables. You could also have papadums and a little greek yoghurt on top.
Minimum size of 900g (serves 4-5).  This product is cooked & frozen. Heating in oven, microwave or stovetop is required.
Macros
Macros per 195g serve: Calories: 308 | Protein: 27.8g | Carbs: 2.8g | Fats: 19.1g
Ingredients & Allergens
Ingredients: Chicken thigh, onion, garlic, ginger, tomato paste, Coconut milk (coconut cream 99.9%, xantham gum E415 & guar gum E412), chicken broth, salt, olive oil, coriander seed, garam masala, sweet paprika, cumin seed, turmeric, chilli, cinnamon, cardamon, arrowroot

Allergens: May contain traces of nuts, seeds and sulphites
Heating & Storage Instructions
This is a frozen meal and should be stored in the freezer until you're ready to thaw.

Cooking Instructions:

1. Allow to defrost in fridge overnight

Stovetop
2. Once defrosted, remove from bag and place in a non-stick pan
3. Heat on low-medium tempurature, stir regularly to ensure it doesn't stick to bottom of pan. Heat until boiling

Microwave
2. Once defrosted, remove from bag and place in microwave safe dish
3. Heat for 5mins, stir and repeat for another 5mins
4. Check temperature is above 80 degrees (hot enough to eat)
5. Repeat in 2min intervals if not hot enough

Oven
2. Heat oven to 180 degrees
3. Once defrosted, remove from bag and place in oven proof dish
4. Cover with foil or lid
5. Heat for 25mins, stir and check temperature is over 80 degrees
6. If not hot enough, heat in 10 minute intervals
Nutrition Panel