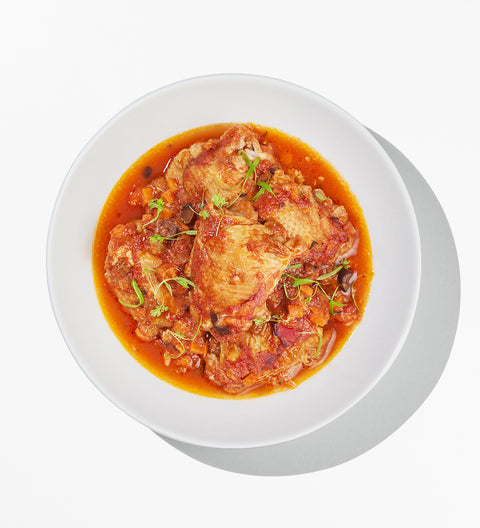 Activate Foods
Family - Chicken Cacciatore
Ready Made Chicken Cacciatore Meal
Our ready made Chicken Cacciatore is a classic Italian dish with whole chicken thigh (skin on, bone in) and is cooked in a rich tomato sauce with vegetables & olives.
Serving Suggestions: You could accompany this with some steamed or mashed potatoes, pasta or vegetable noodles.
Minimum size of 1.1kg (serves 4). (Note: depending on weight of chicken, the number of thighs may vary from 4-5)  
Our Chicken Cacciatore meal is cooked & frozen. Heating in oven is required.

Macros
Macros per serve: Calories: 391 | Protein: 24.2g | Carbs: 4.5g | Fats: 29.5g
Ingredients & Allergens
Ingredients: Chicken thigh (skin on, bone in), onion, garlic, carrot, celery, thyme, white wine, tomato, anchovy (don't freak out, it's just a tiny bit), olives, house made chicken bone broth (chicken bones, water, carrot, onion, celery, apple cider vinegar, sea salt, water), olive oil, salt & pepper.

Allergens: Contains seafood (anchovy). May contain traces of nuts & seeds
Heating & Storage Instructions
This is a frozen meal and should be stored in the freezer until you're ready to thaw.

Cooking Instructions:

1. Allow tray to defrost in fridge overnight
2. Heat oven to 180 degrees
3. Remove plastic bag and lid
4. Cook for 40mins
5. Test using meat thermometer in centre of thigh (at least 80 degrees) or place butter knife in centre to test heat (use caution). Heat in 10 minute intervals if not ready.
6. Allow to rest for 5-10 mins prior to serving
Nutrition Panel