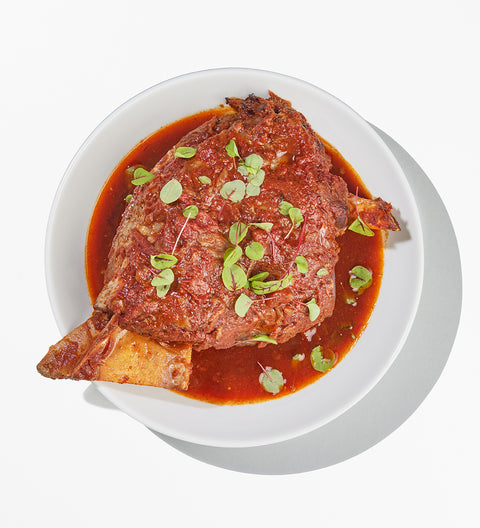 Activate Foods
Family - Moroccan Lamb Shoulder (bone in)
One of our most popular dishes in our single serve meals is now available in family size! Your whole lamb shoulder has been dry rubbed in spices and then slow braised in a rich tomato sauce. This is a wow factor meal to serve to your family or friends. Tender lamb that will fall off the bone and a rich sauce just waiting to be soaked up with some mashed potato.
Accompaniment suggestions: You could serve this with cous cous, mashed sweet potato or tray of roast vegetables.
Minimum weight of 1.5kg (serves 4). This product is frozen & par cooked. Cooking in oven is required. Disclaimer: Weight variation between lamb shoulders will naturally occur. We provide the minimum weight as your guide. 
Macros
Macros per serve: Calories: 406 | Protein:43.2g | Carbs: 7.6g | Fats: 23.1g
Ingredients & Allergens
Ingredients: Whole lamb shoulder (bone in), cumin, paprika, cinnamon, chilli powder, coriander root, olive oil, salt, pepper, lemon zest, tomato, onion, bone broth, honey

Allergens: Contains honey. May contain traces of nuts & seeds
Heating & Storage Instructions
This is a frozen meal and should be stored in the freezer until you're ready to thaw.

Cooking Instructions:

1. Allow defrost in fridge overnight
2. Heat oven to 180 degrees
3. Remove bag & place in oven proof dish
4. Cook for 30-40mins
5. Test using meat thermometer in centre (at least 80 degrees) or place butter knife in centre to test heat (use caution). Heat in 10 minute intervals if not ready.
6. Allow to rest for 5-10 mins prior to serving
Nutrition Panel