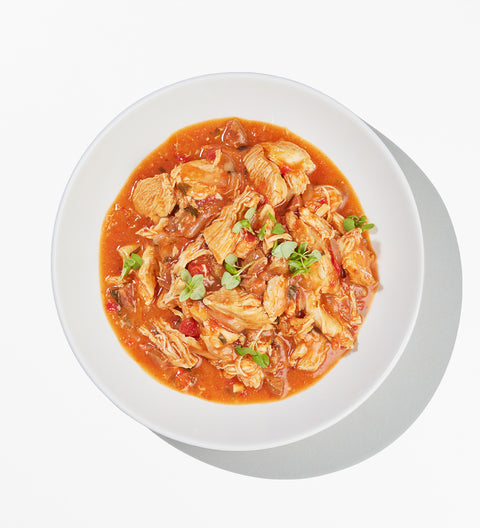 Activate Foods
Family - Pulled Italian Chicken
Serve up your fam's favourite with our family-sized Italian Chicken. Slow cooked, pulled chicken breast in a luscious cherry tomato & chorizo infused sauce—it's the meal your crew deserves!
Serving Suggestions: You could accompany this with pasta, mashed potato and/or steamed vegetables. 

Minimum size of 900g (serves 4-5). This product is cooked & frozen. Heating in  microwave or stovetop is required.
Macros
Macros per 195g serve: Calories: 192 | Protein: 27.5g | Carbs: 4.7g | Fats: 5.9g
Ingredients & Allergens
Ingredients: Chicken breast, chorizo (sulphite 220), spanish onion, garlic, white wine, tomato, basil, parsley, arrowroot, olive oil, salt, pepper.
Heating & Storage Instructions
This is a frozen meal and should be stored in the freezer until you're ready to thaw.

Cooking Instructions:

1. Allow to defrost in fridge overnight

Stovetop
2. Once defrosted, remove from bag and place in a non-stick pan
3. Heat on low-medium tempurature, stir regularly to ensure it doesn't stick to bottom of pan. Heat until boiling

Microwave
2. Once defrosted, remove from bag and place in microwave safe dish
3. Heat for 5mins, stir and repeat for another 5mins
4. Check temperature is above 80 degrees (hot enough to eat)
5. Repeat in 2min intervals if not hot enough

Oven
2. Heat oven to 180 degrees
3. Once defrosted, remove from bag and place in oven proof dish
4. Cover with foil or lid
5. Heat for 25mins, stir and check temperature is over 80 degrees
6. If not hot enough, heat in 10 minute intervals
Nutrition Panel