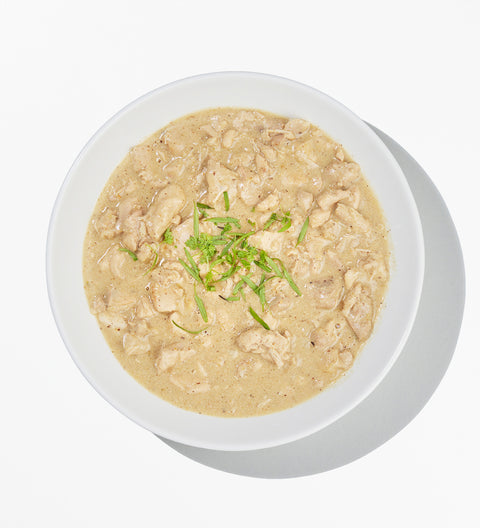 Activate Foods
Family - Satay Chicken Curry
A fragrant and delicious dish to take you back to Indonesia! We make our satay from scratch with a base of almond butter and finished with zesty lemon juice, fish sauce & tamarind paste. This dish isn't spicy so there is no need to worry about it being too spicy for the kids (or big kids)!
Serving Suggestions: You could accompany this with brown or basmati rice, cauliflower rice or steamed vegetables. 
Minimum size of 900g (serves 4-5).  This product is cooked & frozen. Heating in oven, microwave or stovetop is required. 
Macros
Macros per 200g serve: Calories: 295 | Protein: 32.2g | Carbs: 2.8g | Fats: 13.9g

Ingredients & Allergens

Ingredients: Chicken thigh, onion,, house made curry paste (red chilli, galangal, ginger, garlic, lemongrass, turmeric, shallots, coriander root, pepper, shrimp paste (shrimp, salt, corn flour), kaffir lime leaf), tamari (soybeans, rice, salt), almond butter, olive oil, Coconut milk (coconut cream 99.9%, xantham gum E415 & guar gum E412), water, tamarind paste (tamarind, acidity regulator (330), preservative (211)), fish sauce (anchovy, salt, sugar), lemon juice, arrowroot, salt & pepper.

Allergens: Contains nuts, seeds, soy and shellfish (fish sauce, shrimp paste).
Heating & Storage Instructions
This is a frozen meal and should be stored in the freezer until you're ready to thaw.

Cooking Instructions:

1. Allow to defrost in fridge overnight

Oven
2. Heat oven to 180 degrees
3. Once defrosted, remove from bag and place in oven proof dish
4. Cover with foil or lid
5. Heat for 25mins, stir and check temperature is over 80 degrees
6. If not hot enough, heat in 10 minute intervals

Stovetop
2. Once defrosted, remove from bag and place in a non-stick pan
3. Heat on low-medium tempurature, stir regularly to ensure it doesn't stick to bottom of pan. Heat until boiling.
Nutrition Panel