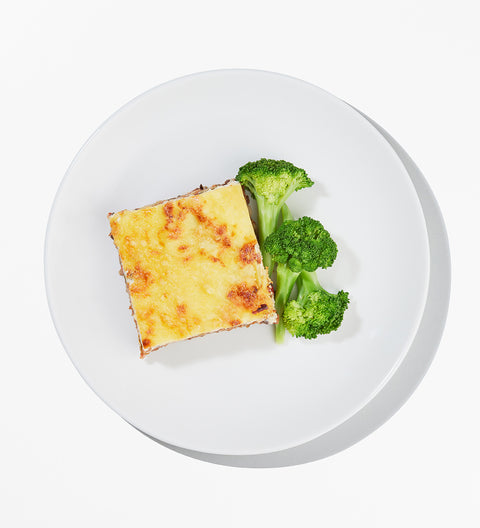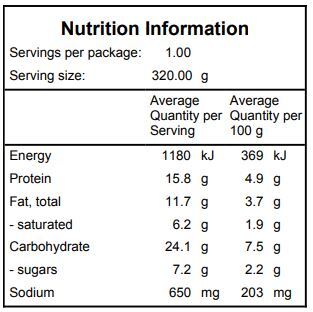 Activate Foods
Vegetarian Lasagna
Ready Made Vegetarian Lasagna Delivered 

Satisfy your plant-based cravings with this delectable vegetarian lasagna! Packed with juicy eggplant, zucchini and capsicum in a rich lentil bolognese, it's blissfully layered with creamy ricotta and topped with oodles of cheese. Plus, we threw in some steamed broccoli, just in case Megan's favorite meal needs a sidekick. Bon appetit, veggie lovers!
Macros
Calories: 307 | Carbs: 24.4g | Fats: 11.7g | Protein:15.8g | Approx weight: 380g
Ingredients & Allergens
Ingredients: Eggplant, zucchini, red capsicum, onion, garlic, thyme, olive oil, cherry tomatoes, tomato paste, balsamic vinegar, french lentils, basil, ricotta, sour cream, GF lasagna (maize starch, soya flour, rice starch, potato starch), cheese, broccoli, olive oil, salt & pepper

Allergens: Contains dairy & soy. May contain traces of nuts & seeds.
Heating & Storage Instructions
This is a frozen meal which should be stored in the freezer

Heating Instructions:
1. Allow to defrost in fridge overnight
2. For even heating, we recommend removing broccoli from container
3. Heat lasagna for 2 minutes
4. Add broccoli back in
5. Heat for a further 1-2 minutes
6. Take care removing from microwave
7. Enjoy

Nutrition Panel