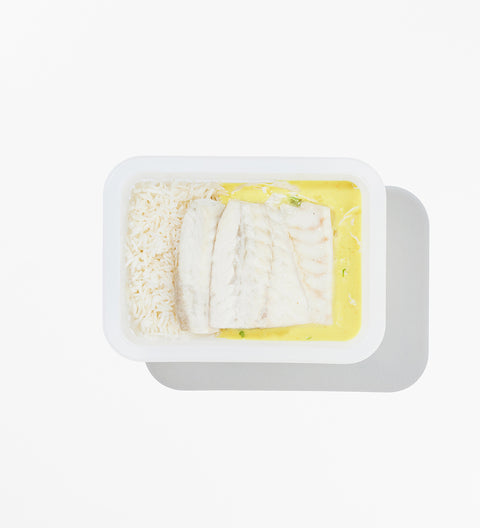 Activate Foods
Yellow Fish Curry - Barramundi
Ready Made Yellow Curry Barramundi Delivered
Tantalize your taste buds with our Yellow Fish Curry - Barramundi! Dig into a deliciously poached barramundi fillet, swimming in a zesty & vibrant yellow curry sauce. We've added our house-made curry paste, plus tamarind paste, lemon juice, and fish sauce - an exotic flavor combo sure to make a splash! Comes with a side of rice & greens, making it perfect for pescatarians! Dive in!
Macros
Calories: 348 | Protein: 27.2g | Fat:11.2g | Carbs: 33.5g | Approx Weight: 290g
Ingredients & Allergens
Ingredients: Barramundi, basmati rice, wombok, choy sum, house made curry paste (chilli, garlic, ginger, galangal, lemongrass, onion, shrimp paste, coriander root, salt, pepper, kaffir lime leaf), coconut milk (coconut cream 99.9%, xantham gum E415 & guar gum E412), fish sauce (anchovy, salt, sugar), tamarind paste (contains preservative 211), lemon juice, olive oil.

Allergens: Contains shellfish & sulphites. May contain traces of nuts & seeds.
Heating & Storage Instructions
This is a fresh meal which should be stored in the fridge and eaten before the expiry.

Heating Instructions:
1. Heat for 2-3 minutes or until heated through
2. Take care removing from microwave
3. Enjoy
Nutrition Panel